About Me
I am an assistant professor in the Information Systems department at UMBC. My work is in the area of statistical machine learning. Previously, I was a postdoctoral scholar at the
University of California, San Diego
under the
Data Science Postdoctoral Fellowship
program, co-sponsored by
ITA
,
Calit2
, the
Qualcomm Institute
,
CSE
and
ECE
. Before that, I was a postdoctoral scholar in
Lise Getoor
's
LINQS
research group at
UCSC
, and I graduated from
Padhraic Smyth
's
DataLab
group at
UCI
. For more information, see:
Research Interests
My research interests are in both applied and foundational
machine learning
, focusing on
probabilistic models
and
Bayesian inference
algorithms to learn them from data. My work aims to promote the practice of
latent variable modeling
for applied research in disciplines such as
computational social science
and the
digital humanities
. I develop models and algorithms for finding interpretable latent structure in data such as social networks and text, which may provide a window into human nature.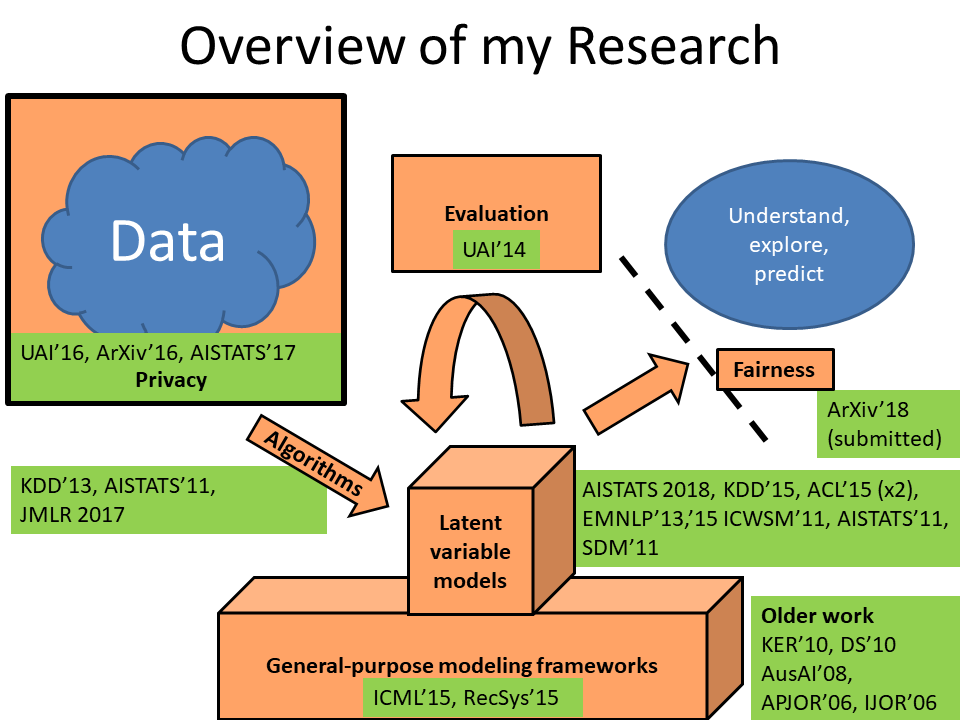 News
Teaching
Tutorial Slides
Software
See publications for links to software associated with my papers.
At the behest of the University of Waikato Department of Mathematics, I created Tuatara Turing Machine Simulator , a graphical Turing machine simulator and construction tool for teaching purposes.
I also worked on the GUI for the Boundary Visualizer, a classification visualization tool in WEKA , a popular java open source data mining toolkit developed at the University of Waikato.
Other Interests
I was a member of the Japanese taiko drumming groups Watsonville Taiko and Waitaiko , and the Korean drumming group Hansori at UC Irvine.
I played guitar in the rock group 4 Second Fuse.
In 2007-2008, I was part of the problem reviewing/writing team for the ACM South Pacific Programming Contest.
For a number of years, I was involved with the executive committee of the Waikato ACM Student Chapter .
Trivia
My Erdös number is two (James R. Foulds - Leslie R. Foulds - Paul Erdös).